Area Rug Pads
What's between your rug and the floor can make a world of difference. Our cushioned rug pad will protect your area rug and improve the longevity of both your rug and the hard wood floor underneath. With our Sure Grip non slip area rug pad, you get the best in friction free and slide free hold for your rug on any flooring surface.
Note: During custom rug process, you will have the opportunity to add a rug pad that will fit the rug you've created.
Rug pads are not recommended for outdoor use
Cushioned Rug Pad
Simply the best rug pad tested. Thicker for a added comfort it preserves your floors and supports a longer lasting rug. It also helps prevent your rug from slipping. Antimicrobial and reversible for use on carpet. Sustainable product made from post industrial polypropylene fiber. NOT FOR OUTDOOR USE.
Add to Cart
Sure Grip Rug Pad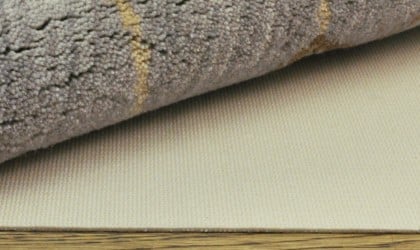 Protect your rug and your floor with this rug pad's superior grip ability. Especially useful for those hard to hold rugs in high traffic areas such as such as living rooms and hallways. Made from an antimicrobial polyester fabric. NOT FOR OUTDOOR USE.
Add to Cart