Hallway Runners
Rug runners for the hallway not only protect your flooring, but they also give your entryway a welcoming feel. And we know not all hallways are the same size. That's why it's important for you to be able to choose a custom hall runner in the exact size you need.
Runners are not just for the hall or staircase. For example, you can custom area runners for the bedroom to frame the bed on both sides. Here are some more tips for popular runner rug options: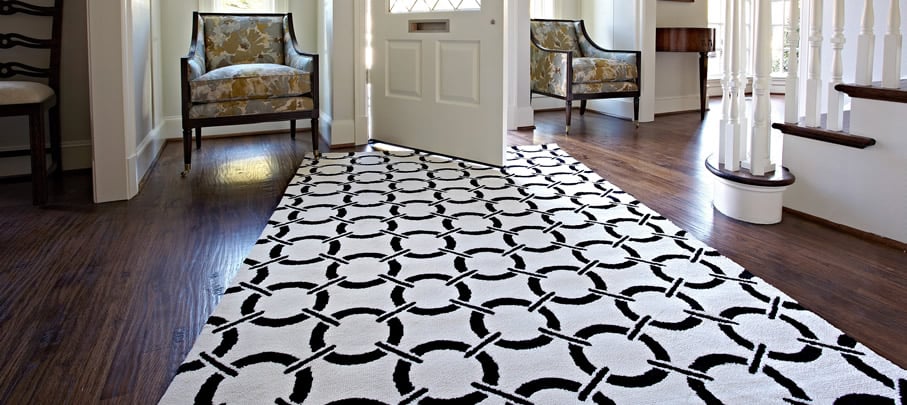 When choosing the perfect outdoor runner, you want to consider a material that is resistant to all types of weather, including fading from sun exposure. Polypropylene or other synthetic rugs are particularly great for outdoors if you are considering a bright color for your runner. These synthetic materials are stain-resistant and quick drying to make your outdoor space an easy enjoyable extension of your living area.
Wool runners are a lovely and luxurious choice. The best part is that you can find beautiful 100% natural wool rugs at affordable prices as well as the higher end options. First you'll want to decide if you need a custom size for your wool rug or if you can find a quick ship runner size to meet your needs.
Why choose jute for your runner? A natural fiber rug, jute rugs are durable and affordable. A wonderfully soft eco-friendly option, Jute runners are great for customizing that unique area under a table, a narrow bathroom, or as a natural beautiful texture in your living room.
Of the natural fiber options, sisal runners are the best choice for high traffic areas. The lovely neutral tones of sisal make a stunning statement in the hallway, entryway or other living area. Though upkeep and maintenance are always recommended, a custom sisal runner is quite durable and can look great for a long time.
Also find our large selection of custom area rugs We offer free rug samples and free shipping on every order. Or check out our quick ship rug runners to see if we already have just the runner size you're looking for!
Similar Articles on Area Rugs and Choosing Your Perfect One
Runners for the Hallway and More...
Three Steps to Choosing your Perfect Rug